Welcome to the new ceramics page!  Here are currently available pieces.  To create each piece, it is fired three times.  The colors change immensely from dull, chalky tones  to vibrant, rich colors upon the final firing.  What goes into the kiln bears little color resemblance to the finished product.  The colors are richer than appear here; they're hard for me to photograph accurately.

Each piece receives it's own individual number; each is a one-of-a-kind, no two are alike.  So, #282, for example, is the 282nd piece I have done.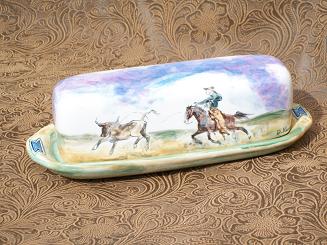 Vaquero Butterdish

Vaqueros both sides roping cattle, as all of my pieces, a one-of-a-kind.  These vaqueros are from the  1920's to 1930's style. 

$95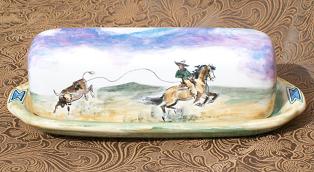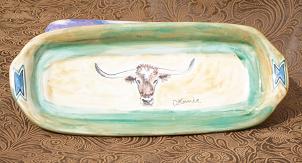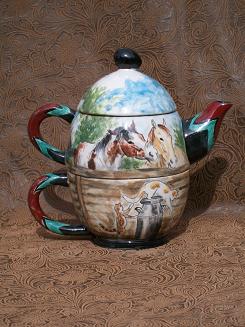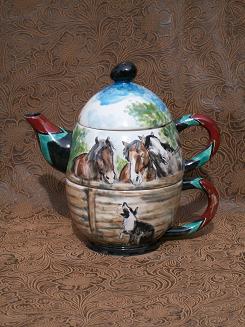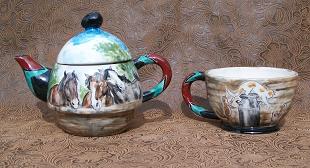 Horses "Tea for One"

A stacking tea pot, which comes apart into 3 pieces, all handpainted.  #282.  There are some cats wishing they could sample some of the fresh milk in the can, and a border collie who is figuring on  keeping both the horses and the cats in line.

$125

Call me for more information on any of these pieces or for commission work.

I am happy to email or mail you more pictures of any particular item.

Deborah Kunic

805-467-3510

Full Size Teapot Set:

Mule &  Magpies  Taking Down a Clothesline with 2 Matching Mugs

Unique among teapots is this one depicting two non-chalant mules finding entertainment out by the clothesline.  The ranch border collie, not wishing to be implicated in these doings is hiding in the laundry basket, the milk goat is wrapped in the long underwear and the magpies haven't seen this much entertainment  since; well, yesterday maybe.

$325

Full Size Teapot Set:

Mission Carmel with bears and vaqueros.

Sipping tea brewed in this pot brings one back to the excitement and romance of Early California, when cattle and the hides they provided were king, and bears an everpresent nuisance. The entire economic system of this fledgling area depended on cattle and those in turn on the skill and expertise of the vaqueros who tended them.  Matching mugs have vaqueros in traditional gear of the day.

$325

Currently Available Handpainted Mugs (shown  below)

Each one is different, no two the same.  The mugs are not numbered, so please refer to them by description  when purchasing. They are $30 each or two for $55. I do custom designs for the same price.

.Butterdish: Mule Train Encountering a Bear

This is a very finely detailed butterdish with a mule train getting a whiff of bear, and no one is very happy about it.  Lots of small details on this one.

$95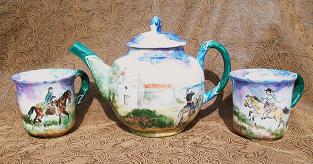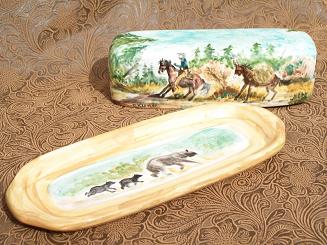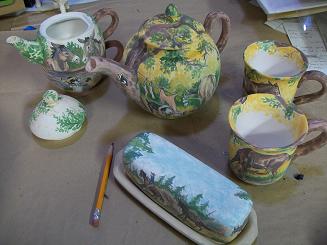 Unfired ceramic pieces in-progress.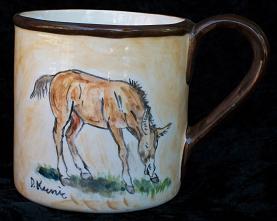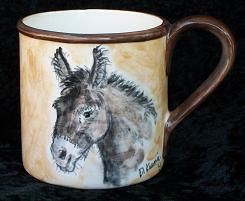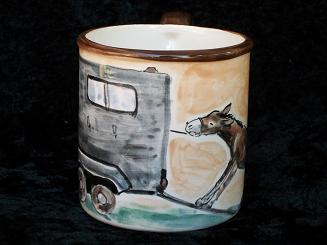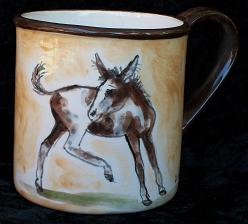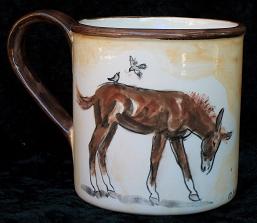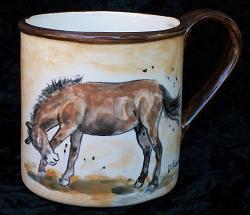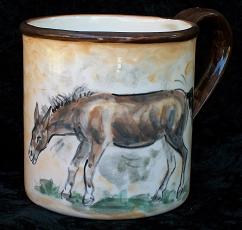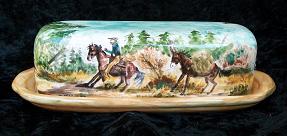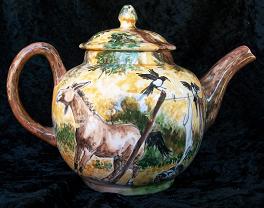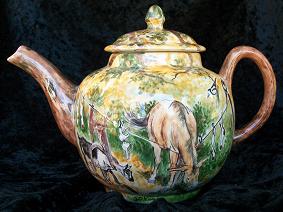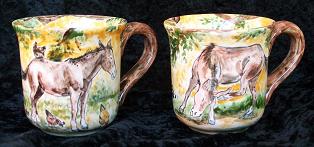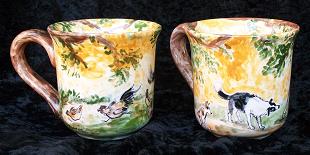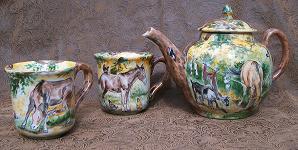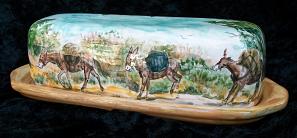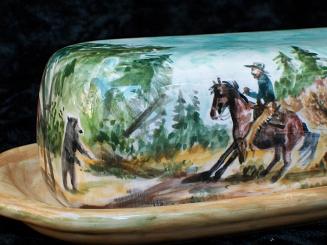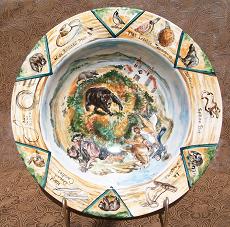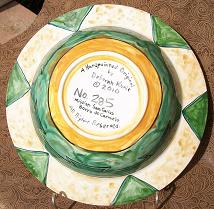 Carmel Mission Bowl

Two vaqueros have come upon several bears feeding in the brush above the mission, and one takes offence at the intrusion.   A nice salad size serving bowl.   Number 285.

$150.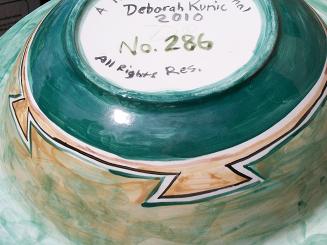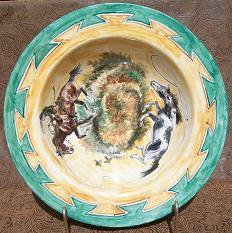 Vaquero Bowl

Same size as the Carmel Mission Bowl.

Here a 1930's vaquero is throwing his reata on a wild paint horse  and a covey of quail take flight

$150