Here you will find my smallest etchings, which will be from 1 to 2 inches per side on average.

Custom framing and matting is available on all art.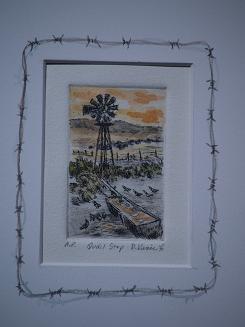 Quail Stop

Quail populations are largely determined in particular by access to a reliable water supply, what better than an old trough?  These wet places in an arid habitat are a hub of activity and a life-saver as well for many animals.

Handcolored print with handpainted mat design as shown $55

Handcolored print only $35

Original remarque add $5


Quail

Ever watchful of his harem, California Quail are always on the alert.  They are a delight to watch as they  chatter to one another with their "who-whee" call.

Handcolored as shown $35

Remarque add $5


Threshing

This etching combines traditional etched lines with finer, delicate  drypoint lines.  Big hitches of 30 or more horses were usual about the turn of the century, and in fact quite the vogue for progressive farmers with large, new combines .  In their day, they  were cutting edge technology.

Black & White as shown $55

Handcolored $65

Original remarque add $5

To contact the artist, please call:

805-467-3510